N. Balakrishnan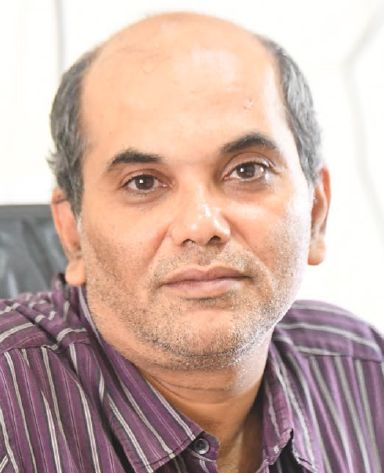 Professor
Aerodynamics
Email: nbalak[at]iisc.ac.in
Office Phone Number: +91-80-22933029
Education
Ph.D. (Aerospace Engineering) Indian Institute of Science 1995
M.Tech. (Mechanical Engineering) Indian Institute of Technology Bombay 1990
B.E. (Mechanical Engineering) Annamalai University 1988
Research Interests
Computational Fluid Dynamics: Algorithms and Applications
Research Statement
This will be updated soon.
Current Projects
Effect of Nose Mounted Propeller on Aircraft Aerodynamics, (November 2018 – November 2020)

Arjun BS, Omkar SN, Balakrishnan N. Motion Optimization of Plunging Airfoils Using Swarm Algorithm. In Proc. Aeronautical Society of India Annual CFD Symp.. Bangalore, 2008.. 2008
PhD:
Amsha S, PhD ongoing
V V S Narayan, PhD ongoing (ERP)
Shubhashree Subudhi, PhD ongoing
Killare Amol Uttamrao, PhD ongoing, On aspects of RANS computations using Meshless solvers
Valliammai V, PhD ongoing, Establishing CFD design methodology for Intake Aerodynamics, (jointly with Dr. Santosh P Koruthu, ADA)
Vinayender Kuchana, PhD ongoing, Design Optimization of Inter-turbine ducts, (jointly with Dr. S. Balamurugan, Honeywell)
Manish Kumar Singh, PhD ongoing, Implicit Gradient Reconstruction method for compressible flows, (jointly with Dr. V. Ramesh, NAL)
Mohamed Yousuf, PhD ongoing, Towards a viscous Cartesian grid method based on Meshless LSFD-U procedure
Karthikeyan N.  Flow and Acoustics investigation of Jet Structured Interaction during Launch Vehicle lift-off, (jointly with Dr. L. Venkatakrishnan, NAL) PhD, 2017
Partha Mondal, Wing in Ground effect, PhD, 2014
Kiran Chutkey, Investigation of Plug Nozzle Flow Field, PhD, 2013
N. Ganesh, Residual Error Estimation and Adaptive Algorithms for Fluid Flows, PhD, 2010
P. Theerthamalai, Aerodynamic Analysis of Grid Fins Using Analytical and Computational Methods, PhD, 2007
N. Munikrishna, On Viscous Flux Discretization Procedures for Finite volume and Meshless Solvers, PhD, 2007
Nikhil Vijay Shende, Development of a general purpose flow solver for Euler equations, PhD, 2006
M.Tech (Research):
Msc (Engg.):
Jobin J Unnupatt, Novel fully Implicit Collocated grid incompressible flow solver on Un-structured meshes, 2016
Gopalakrishna N., On Three Dimensional High Lift Flow Computations, 2014
Sumit Kumar Patel, A Residual Based h-Adaptive Strategy Employing a Zero Mean Polynomial Reconstruction, 2013
Manish Kumar Singh, LU-SGS Implicit Scheme for a Meshless Euler Solver, 2011
B. S. Arjun, Motion Optimization of plunging airfoil using Swarm Algorithm, (jointly with Dr. S. N. Omkar) 2009
Asitav Mishra, A 3D High resolution Unstructured Viscous flow solver, 2005
Partha Mondal, Cartesian like grids using a novel grid stitching algorithm for viscous flow computations, 2005
Devaki Ravikumar, Unstructured Mesh Viscous flow computations using Acoustic Flux Vector Splitting Schemes (AFVS), 2002
ME Students:
Sharanjeet Kaur, Low speed wing optimization for maximizing endurance, 2017
Soumyajit Behera, Estimation of Thrust-Dependent drag, 2017
Praveen B, Steady and Unsteady CFD Validation for High speed Trans Cruiser, 2016
Anish P Aravinth, Towards an unsteady analysis of Scramjet intake flows, 2016
Sangeeta Sharma Panda, Theoretical and Numerical Investigation of Dynamic behavior of Advanced Artillery Ammunition (Yaw Un-dampening: Effect of Magnus moment and Dynamic Imbalance), 2015
Arvind Bobby Alphonse, Design of Submerged Air Intake for Subsonic Cruise Vehicle, 2015
Felix A Madukkakuzhy, Development of an error estimator and adaptive time stepping procedure, 2015
Warrier Ranjith Radhakrishnan, Ground Effect Aerodynamics of Inverted Aerofoils used in open Wheeled Race Cars A CFD Study, 2014
Battula Raju, Computation of Transitional flows, 2014
Hariharan R, Incorporating thickness effects in Discrete Vortex Method, 2014
Kripal Singh, A Computational study of flow past a 65 degrees Blunt-Leading Edge Delta-Wing, 2013
A. K. Mayank, Meshless Solver as Cartesian Grid Methodology, 2013
Brijesh E. Jacob Santacruz Pinto, Towards High Fidelity CFD Solvers: The Staggered Update Procedure (SUP) and Quadratic Least Squares (QLS) based procedures, 2012
Karthik N, Optimization of the Flap position using modified discrete vortex method, 2012
Vijay Anand K, Aerodynamic Design and Analysis of Expendable Aircraft Launched Glider (ALG), 2010
Ganesh D, CFD Prediction of Supersonic Base Drag, 2010
Amit Goyal, CFD Analysis of an Idealized Grid Fin Configuration, 2008
A. Vadivelan, Computational Prediction of Rime Ice Accretion Using Meshless Solver, 2008
Vinayendar Kuchana, Numerical Study of Flow Over Grid Fins, 2007
P. Suriyanarayanan, Incompressible flow computations using Pressure based Algorithm on Collocated Unstructured Grids, 2006
Kiran Chutkey, Computational and Experimental studies of Linear Plug Nozzle, (jointly with Mr. B. Vasudevan) 2006
Chetan Naik, A Novel Linearization Procedure for Viscous Fluxes and Stability of Implicit Schemes, 2006
Bajjal Raghavendra, Performance Evaluation of Various Turbulence Models in Fluent, 2006
Tarun Jain, Turbulent Flow computations on Unstructured meshes, 2005
Karthikeyan. N, Viscous LSFDU for Cartesian grids, 2005
Ganesh. N, A new adaptation strategy for compressible flows,  2004
Vijaykumar. K, Numerical Investigation of Aero-spike Nozzle, 2004
Anup S Ninawe, Viscous flow computations using meshless solver LSFD-U, 2004
Nitika Mittal, Computational Study of 2D Aerodynamics of Ground effect, 2003
C. Sadagoban, Capturing Wing-tip vortices, 2003
Ashis Kumar Sen, LSFD-U for compressible Navier-Stokes equation, 2003
P. Arvind, CFD Study of High Altitude Airship Aerodynamics, 2003
Athaluri Gnana Kumar, Variants of LSFD-U for compressible flows, 2002
Umesh Garg, An embedded grid adaptation strategy for Unstructured data based Finite volume computations, 2002
Konark Arora, Implicit Euler Solver on Unstructured Meshes, 2001
D. Karthikeyan, Parallel Computations on Unstructured Meshes using PACE+24, 2000
C. Praveen, A New Upwind Least Squares Finite Difference Scheme for Compressible Flows, 2000
H. S. Krishna, Performance analysis and efficient parallelization of CFD codes on PACE+24, 1999
ME/M.Tech (other Institute's) Thesis Guidance:
Ganesh Pawar R, Assessment of accuracy of generalized finite difference method, Institute: JSS Academy of Technical Education, Bangalore, June 2019
Umesh Chougala, Thermal analysis of passive cooling devices based on pot-in-pot refrigerator, Institute: Nitte Meenakshi Engineering Institute of Technology, Bangalore, June 2016
Pradeep Roy S, Evaluating the Suitability of Lifting Line Theory Based Lower Order Models for Understanding Swept Wing Flow Physics, University: Hindustan Institute of Technology and Science, Chennai, 2013
Sandeep K. Bhat, CFD analysis of Plug Nozzle flows, University: BIT, Mesra, Ranchi, 2007
Prathima K.N., Flux Blending for Compressible Flow Computations, University: NIT, Suratkal, 2007
Allamaprabhu C.Y., Development of a 2-Dimensional Navier-
Stokes Finite Volume Flow Solver and Investigation of the Behaviour of Limiters, University: NIT, Suratkal, 2005
Ravindra K., Finite Difference Flow Solver for Viscous
Compressible Flows, University: NIT, Suratkal, 2005
Gopal N. Shinde, Parallelization of code HIFUN-3D, University: M.S. University of Baroda, 2003
M. Satyanarayana, Adaptive Unstructured Mesh supersonic Jet calculations using AFVS scheme, Institute: Indian Institute of Technology, Kanpur, 1998
B. Narendrababu, Wall Boundary Conditions for inviscid compressible flows, Institute: Indian Institute of Technology, Kanpur, 1997
This will be updated soon.