Dineshkumar Harursampath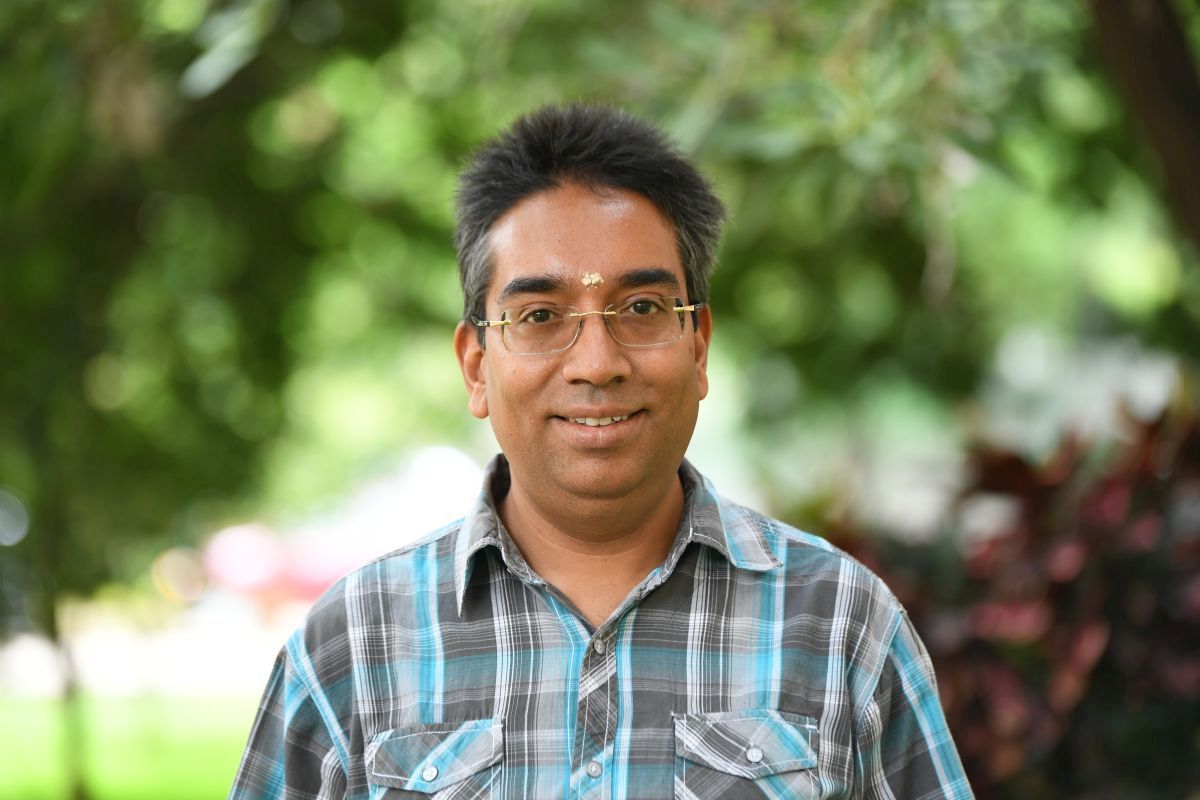 Associate Professor
Structures
Email: dineshkumar[at]iisc.ac.in
Office Phone Number: +91 80 2293-3032
Lab Phone Number: +91 80 2293 3097
Education
PhD (Aerospace Engg., Georgia Tech, USA)
ME (Aerospace Engg., IISc, India)
BTech (Aerospace Engg., IIT-Madras, India)
Experience
Sabbaticals:
1. Professeur Invité (2007 – 2008), Laboratoire de Mécanique et Technologie (LMT), Ecole Normale Supérieure (ENS) de Cachan, 61, Avenue du Président Wilson, 94235 Cachan Cedex, France; Tel: + 33 1 47 40 75 19
2. Professore Invitato (2010), Ufficio 28?, Dipartimento di Ingegneria Aerospaziale, ?Politecnico di Milano, ?Via la Masa 34, 20156 Milano, Italy?; Tel. +39 02 2399 8395
3. Professore Invitato (2012), Sala 30, Dipartimento di Ingegneria Meccanica e Aerospaziale, ?Politecnico di Torino, ?C.so Duca degli Abruzzi, 24, 10129, Torino, Italy?; Tel. +39 011.090.6836
4. Gastprofessor (2012), LR NB 2.13, Aerospace Structures & Computational Mechanics, Faculty of Aerospace Engineering, TU Delft, Kluyverweg 1, 2629 HS Delft, The Netherlands; Tel: (+31) 0152785627; e-mail: D.K.HarurSampath@tudelft.nl
Research Interests
At the NMCAD Lab, we model geometric and physical nonlinearities as well as their evolutionary interaction in conventional and multifunctional composites for aerospace and non-aerospace applications. Our work is predominantly theoretical and analytical with supportive computational implementation and experimental validation.
Research Statement
"Enable getting as close to the truth as one intends with the least effort!"
Consulting Activities
Offered in many major international and national programs. Past interactions include The Boeing Aircraft Company, Hindustan Aeronautics Limited, Department of Science & Technology, Defense Research & Development Organization, LM Glasfiber R&D, Goodyear Tires, Airbus India Engineering Center, Bell Helicopters etc.
Current Projects
Composite Rotor Flex Beam Flapping Optimization, Concordia University, Canada and Bell Helicopter Textron, USA, 2013-2016
Piezo-Composite MAV Wing as Integral Structure and Actuator, National Program on MICro Aerial Vehicles (NPMICAV), Department of Science and Technology (DST), Government of India, 2011-2015
Study of Suitability of Composite Layers for Fan Blade Containment in a Gas Turbine System through Numerical Modeling and Experimental Validation, Gas Turbine Research Establishment (GTRE), Defence Research and Development Organisation (DR&DO), Bengaluru,
Computational Study of Micro-Mechanics of and Damage Mechanics in MMC Blings based on an Asymptotically- Correct Analysis,Gas Turbine Research Establishment (GTRE), Defence Research and Development Organisation (DR&DO), Bengaluru, India
Harursampath D, Harish AB. Thin-Walled Composite Beams. Germany: VDM Verlag; Submitted. 2018

Gupta BR, Harursampath D. Hyperelastic Shells: Reliable Modeling. Boston, USA: Artech Publishing House Ltd; Submitted. 2018

Gupta BR, Harursampath D. Hyperelastic Plates: Asymptotically Correct 3-D Fields. Journal of Mechanics of Materials and Structures. Submitted;. 2014

Pollayi H, Harursampath D. Effect of Asymptotically Correct Nonlinear Cross-Sectional Analyses on Dynamics of Anisotropic, Flexible Four-Bar Mechanisms. Multi-Body System Dynamics. Submitted. 2014

Pollayi H, Harursampath D. Analytic Sensitivity of Dynamics of Anisotropic Flexible Four-Bar Mechanisms to Stacking Sequences. Journal of Computational and Nonlinear Dynamics. Submitted. 2014

Pollayi H, Harursampath D. Effect of Cross-Sectional Nonlinearities on Dynamics of Composite Four-Bar Mechanisms. ASME Journal of Computational and Nonlinear Dynamics. Submitted. 2014

Valliappan V, Harursampath D. Effects of Initial-curvature and Pre-twist on the Actuation Behavior of a Piezo-composite Beam. In Mechanics of Composites (MechComp2014). Stonybrook, NY, USA. accepted; 2014. 2014

Shukla A, Harursampath D. Asymptotically Correct 2-D Constitutive Law for a Composite Sandwich Plate Exhibiting Monoclinic Material Symmetry using Variational Method. In Mechanics of Composites (MechComp2014). Stonybrook, NY, USA: accepted; 2014. 2014

Gupta M, Harursampath D, Agrawal S. Study of Mechanics of Smart Polymers and their Composites for Aerospace Engineering Applications. In Mechanics of Composites (MechComp2014). Stonybrook, NY, USA: accepted; 2014. 2014

Kshirsagar A, Harursampath D, Gupta BR. VAM applied to Dimensional Reduction of Non-linear Multifunctional Film Fabric Laminates. In Mechanics of Composites (MechComp2014). Stonybrook, NY, USA: accepted; 2014. 2014

Valliappan V, Harursampath D, Roy S, Yu W. Cross-sectional Modelling of an Initially Curved and Pre-twisted Smart Beam. In 55th AIAA/ASME/ASCE/AHS/ASC Structures, Structural Dynamics, and Materials (SDM) Conference, AIAA Science and Technology Forum and Exposition 2014 (AIAA SciTech 2014). National Harbor, MD, USA: accepted, Control ID: 1741308; 2014. 2014

Harursampath D, Vijayachandran HA, Srinivasan S, Sanehi H, Parkhe KKR. Prediction of Crack Propagation using Variational Asymptotic Method (VAM). In Mechanics of Composites (MechComp2014). Stonybrook, NY, USA: accepted; 2014. 2014

Pollayi H, Harursampath D, Yu W. Evaluation of Strength of Component-Laminates in Strip-based Mechanisms. Composite Structures. 2013;100. 2013

Keshava KS, Ganguli R, Harursampath D. Partial Delamination Modeling in Composite Beams using Finite Element Method. inite Elements in Analysis and Design. 2013. 2013

S Kumar K, Ganguli R, Harursampath D. Partial Delamination Modeling in Composite Beams using a Finite Element Method. Finite Elements in Analysis and Design. 2013;16(15). 2013

Harursampath D, Ponnusami SA. Modeling of Composites for Helicopter Parts. In Composite materials in the helicopter industry: types, properties, manufacturing and applications. Cambridge, UK: Edited by: Ian Vincent Frain, Woodhead Publishing; 2013. 2013

Harish AB, Harursampath D. Algorithms and Principles for Intelligent Design of Flapping Wing Micro Air Vehicles. In Handbook of Research on Computational Intelligence for Engineering, Science and Business. IGI Global; 2013. 2013

Guruprasad PJ, Singh CV, Harursampath D. Modeling Matrix Crack evolution in a thin pre-twisted anisotropic strip. In The 19th International Conference on Composite Materials (ICCM19). Montreal, Canada: Paper ID GUR81561; 2013. 2013

Keshav KS, Ganguli R, Harursampath D. Delamination Detection of Rotorcraft Flexbeam using Fractal Dimensions. In The 19th International Conference on Composite Materials (ICCM19). Montreal, Canada: Paper ID KUM80360; 2013. 2013

Murugan S, Ganguli R, Harursampath D. Surrogate based Design Optimisation of Composite Aerofoil Cross-section for Helicopter Vibration Reduction. The Aeronautical Journal. 2012;116(1181). 2012

Murugan S, Ganguli R, Harursampath D. Surrogate Based Design Optimization of Composite Airfoil Cross-Section for Helicopter Vibration Reduction. Aeronautical Journal. 2012;116(1181). 2012

Pollayi H, Harursampath D. Geometrically Nonlinear Dynamics of Composite Four-Bar Mechanisms. International Journal of Non-Linear Mechanics. 2012;47(8). 2012

Rao MVPeereswa, Harursampath D, Renji K. Prediction of Interlaminar Stresses in Composite Honeycomb Sandwich Panels under Mechanical Loading using Variational Asymptotic Method. Composite Structures. 2012;94(8). 2012

Gupta BR, Harursampath D. VAM applied to Dimensional Reduction of Nonlinear Hyperelastic Plates. International Journal of Engineering Science. 2012;59. 2012

Harish AB, Harursampath D. Analytical Solutions for Dynamic Behavior of Thin-Walled Open- Section Beams. In Session SDM-74: Beam Analysis, 53rd AIAA/ASME/ASCE/AHS/ASC Structures, Structural Dynamics and Materials Conference. Honolulu, Hawaii, USA: Paper No. AIAA-2012-1872; 2012. 2012

Ponnusami SA, Harursampath D. Nonlinear Bending Behavior of Carbon Nano tubes and their Composites. In 1st International Conference on Mechanics of Nano, Micro, Macro Composite Structures (ICMNMMCS), Special Session: Advanced Structural Models for Thin-Walled Structures and Slender Bodies. Torino, Italy: Paper ID 285; 2012. 2012

Harish AB, Harursampath D. A General Framework for Numerical Solutions to Rate-Dependent Plasticity Problems of Piezo-Composites. In technical conference " Behavior and Mechanics of Multifunctional Materials and Composites VI" at the 19th SPIE International Symposium on Smart Structures and Materials and Nondestructive Evaluation and Health Monitoring. San Diego, CA, USA. paper and oral presentation SS12-SSN04-18 for the session "Piezoelectric Ceramics: Fabrication and Performance", SPIE Paper# 8342-26; 2012. 2012

Sreedhara H, Harursampath D. Modeling of a Multifunctional Structure plus All Solid-State Thin-Film Battery System. In 1st International Conference on Mechanics of Nano, Micro, Macro Composite Structures (ICMNMMCS), Special Session: Advanced Structural Models for Thin-Walled Structures and Slender Bodies. Torino, Italy: Paper ID 476; 2012.. 2012

Ponnusami SA, Harursampath D. Modeling of Piezo-composite Actuators with Application to Flapping Wing Micro Aerial Vehicles. In Session SDM-85: Modeling, 53rd AIAA/ASME/ASCE/AHS/ASC Structures, Structural Dynamics and Materials Conference. Honolulu, Hawaii, USA: Paper No. AIAA-2012-1966; 2012. 2012

Sreedhara H, Harursampath D. Modelling of a multifunctional composite structure with electrical energy storage capability. In Symposium VI.2 on "Nonlinear Dynamics of Multifunctional Composite Structures" at the 49th Annual Technical Meeting (ATM) of the Society of Engineering Sciences (SES). Atlanta, GA, USA: Paper ID 83; 2012. 2012

Harish AB, Harursampath D.. Analytical Solutions for Dynamic Behavior of Pretwisted Anisotropic Strip-like Beams. In Session SDM-74: Beam Analysis, 53rd AIAA/ASME/ASCE/AHS/ASC Structures, Structural Dynamics and Materials Conference. Honolulu, Hawaii, USA. Paper No. AIAA-2012-1871; 2012. 2012

Agrawal S, Ponnusami SA, Harursampath D. Modeling of Piezocomposite Actuators for Flapping Wing Applications. In European Society for Composite Materials (ESMC)'s 15th European Conference on Composite Materials (ECCM15), Thematic Session : Smart Materials and composite structures (F. Furgiule, E. Dragoni). Venice, Italy: Abstract submitted: ID809; 2012. 2012

Guruprasad PJ, Singh CV, Harursampath D. Nonlinear analysis of pretwisted anisotropic strips in the presence of interlaminar and intralaminar cracks. In Symposium VI.2 on "Nonlinear Dynamics of Multifunctional Composite Structures" at the 49th Annual Technical Meeting (ATM) of the Society of Engineering Sciences (SES). Atlanta, GA, USA. Paper ID 345; 2012. 2012

Harish AB, Kudli SS, Sridhar A, Kulkarni AM, Honnungar S, Harursampath D. Miniaturizable High Voltage Control System for Piezo-Composite Self-Actuating Flapping Wing Micro Air Vehicle. In technical conference "Active and Passive Smart Structures and Integrated Systems VI" at the 19th SPIE International Symposium on Smart Structures and Materials and Nondestructive Evaluation and Health Monitoring. San Diego, CA, USA. paper and oral presentation SS12-SSN03-31 for the session "Aircraft, MAV/UAV and Morphing Systems I", Paper# 8341-34; 2012. 2012

Padhee SS, Harursampath D. Homogenization and micromechanical analysis of piezo-fiber reinforced composites. In session "Active and Passive Smart Structures and Integrated Systems VI" at the 18th SPIE International Symposium on Smart Structures and Materials and Nondestructive Evaluation and Health Monitoring. San Diego, CA, USA: Paper No. # 8341-61; 2012. 2012

Rao KKS, Ganguli R, Harursampath D. Damage Detection in Sandwich Plates using Shear Horizontal Wave. In the technical conference "Health Monitoring of Structural and Biological Systems VI". at the 19th SPIE International Symposium on Smart Structures and Materials and Nondestructive Evaluation and Health Monitoring. San Diego, CA, USA. paper and oral presentation No. SS12-SSN10-35 for the session "Guided Waves IV: Aerospace Applications", Paper No. 8348-33; 2012. 2012

Venkatesh G, Ponnusami SA, Harursampath D. Delamination Studies on Composite Laminates – An Asymptotic Approach. In special track on "Structural Mechanics" at the European Mechanics Society's (EuroMech) 8th European Solid Mechanics Conference (ESMC2012). Graz, Austria: Paper ID 19634; 2012. 2012

Kumar K, Harursampath D. Morphing Fixed Wing MAV Modeling using VAM. In European Society for Composite Materials (ESMC)'s 15th European Conference on Composite Materials (ECCM15), Thematic Session : Smart Materials and composite structures (F. Furgiule, E. Dragoni). Venice, Italy: Abstract submitted: ID2078; 2012. 2012

Venkatesh G, Prasad PS, Harursampath D. Effect of delamination on Dynamic analysis of Piezoelectric Fiber Reinforced Composite Beams. In Symposium VI.2 on "Nonlinear Dynamics of Multifunctional Composite Structures" at the 49th Annual Technical Meeting (ATM) of the Society of Engineering Sciences (SES). Atlanta, GA, USA: Paper ID 390; 2012. 2012

Harish AB, Kulkarni A, Bhat R, Gopala N, Harursampath D. Web-based Algorithms and Principles for Design of Flapping Wing Micro Air Vehicles. In the 19th SPIE International Symposium on Smart Structures and Materials and Nondestructive Evaluation and Health Monitoring. San Diego, CA, USA: paper and poster presentation SS12-SSN03-30 for the technical conference "Active and Passive Smart Structures and Integrated Systems VI". Paper ID 8341-83; 2012. 2012

Venkatesh G, Ponnusami SA, Harursampath D. Delamination studies on Composite Laminates – An Asymptotic Approach. In special track on "Structural Mechanics" at the European Mechanics Society's (EuroMech) 8th European Solid Mechanics Conference (ESMC2012). Graz, Austria: Paper ID 19634; 2012. 2012

Ponnusami SA, Harursampath D. Effect of Cross-sectional Non-linearities on Actuation Behavior of Smart Composite Beams. In the 19th SPIE International Symposium on Smart Structures and Materials and Nondestructive Evaluation and Health Monitoring. San Diego, CA, USA. paper and oral presentation SS12-SSN04-41 for the session "Behavior and Mechanics of Multifunctional Materials and Composites VI", Paper No. 8342-27; 2012. 2012

Sreedhara H, Harursampath D. Thermodynamically Consistent Modeling of a Multifunctional Structure plus All Solid-State Thin-Film Battery System. In special track on "Multifield Problems" at the European Mechanics Society's (EuroMech) 8th European Solid Mechanics Conference (ESMC2012). Graz, Austria: Paper ID 38208; 2012. 2012

Prasad PS, Harursampath D. Non-Linear Analysis of Delaminated Pretwisted Anisotropic Beams. In European Society for Composite Materials (ESMC)'s 15th European Conference on Composite Materials (ECCM15), Thematic Session : Delamination and interlaminar reinforcement (M. Hojo, P. Robinson). Venice, Italy: Paper ID 2255; 2012. 2012

Ameen MM, Ponnusami SA, Harursampath D. Prediction of Delamination Initiation and Propagation in Laminated Composites under Fatigue Loading using Variational Approach. In Symposium VI.2 on "Nonlinear Dynamics of Multifunctional Composite Structures" at the 49th Annual Technical Meeting (ATM) of the Society of Engineering Sciences (SES). Atlanta, GA, USA: Paper ID 668; 2012. 2012

Rao KKS, Ganguli R, Harursampath D. Fractal dimension method for delamination detection in composite beams. In 1st Asian Australian Rotorcraft Forum and Exhibition. Busan, Korea; 2012. 2012

Harish AB, Thomas AJ, Subramanya A, Shivam AP, Sridhar A, Mathew B, et al. Modeling and Design of Self- Actuating Flapping Wing Micro Air Vehicles. In the 19th SPIE International Symposium on Smart Structures and Materials and Nondestructive Evaluation and Health Monitoring. San Diego, CA, USA. paper and poster presentation SS12-SSN03-25 for the technical conference "Active and Passive Smart Structures and Integrated Systems VI", Paper ID 8341-81; 2012. 2012

Jagadeesan MN, Ponnusami SA, Harursampath D. Analytical Beam Model for Composite Rotor Blade Applications. In Symposium MS615 on "Advanced Beam Models" at the European Community on Computational Methods in Applied Sciences (ECCOMAS)'s 6th European Congress on Computational Methods in Applied Sciences and Engineering. Vienna, Austria: Extended Abstract No. 2634; 2012. 2012

Rao KKS, Ganguli R, Harursampath D. Fractal Dimension Method for Delamination Detection in composite Beams. In paper and oral presentation for 1st Asian/ Australian Rotorcraft Forum (ARF). BEXCO. Busan, South Korea; 2012. 2012

Prasad PS, Harursampath D. Closed-Form Nonlinear Sectional Analysis of Pretwisted Anisotropic Beam with Multiple Delaminations. In 1st International Conference on Mechanics of Nano, Micro, Macro Composite Structures (ICMNMMCS), Special Session: Analytical and numerical techniques for the analysis of composite structures. Torino, Italy: Paper ID 377; 2012. 2012

Yu W, .Pollayi H, Harursampath D. Evaluation of Strength of Component-Laminates in Strip-based Mechanisms. In Session SDM-06: Dynamics of Composites, 53rd AIAA/ASME/ASCE/AHS/ASC Structures, Structural Dynamics and Materials Conference. Honolulu, Hawaii, USA: Paper No. AIAA-2012-1388; 2012. 2012

Kumar A, Harursampath D. Closed-form asymptotic sectional analysis of thick rectangular CFRP laminated beams. In Symposium VI.2 on "Nonlinear Dynamics of Multifunctional Composite Structures" at the 49th Annual Technical Meeting (ATM) of the Society of Engineering Sciences (SES). Atlanta, GA, USA: Paper ID 670; 2012. 2012

Harish AB, Harursampath D. Analytical Solutions for Delamination Crack Growth in Pretwisted Anisotropic Strip-like Beams. In Session SDM-40: Composite Damage and Delamination, 53rd AIAA/ASME/ASCE/AHS/ASC Structures, Structural Dynamics and Materials Conference. Honolulu, Hawaii, USA: Paper No. AIAA-2012-1873; 2012. 2012

Balakrishna AR, Harursampath D. Sound Energy Harvesting Using Macro Fiber Composites. In special track on "Material Mechanics" at the European Mechanics Society's (EuroMech) 8th European Solid Mechanics Conference (ESMC2012). Graz, Austria: Paper ID 33678; 2012. 2012

Harish AB, Harursampath D. Anisotropic Plasticity in Self-Actuating and Self-Diagnosing Piezo-Composite Flapping Wing MAV. In technical conference "Behavior and Mechanics of Multifunctional Materials and Composites VI" at the 19th SPIE International Symposium on Smart Structures and Materials and Nondestructive Evaluation and Health Monitoring. San Diego, CA, USA: paper and poster presentation SS12-SSN04-19, Paper# 8342-71; 2012. 2012

Kumar K, Harursampath D. Morphing Fixed Wing MAV Modeling using VAM. In 1st International Conference on Mechanics of Nano, Micro, Macro Composite Structures (ICMNMMCS), Special Session: Advanced Structural Models for Thin-Walled Structures and Slender Bodies. Torino, Italy: Paper ID 485; 2012. 2012

Banker MM, Harursampath D. Efficient Stiffened Composite Plate Analysis. In Session SDM-02: Plates and Panels, 53rd AIAA/ASME/ASCE/AHS?ASC Structures, Structural Dynamics and Materials Conference. Honolulu, Hawaii, USA: Paper No. AIAA-2012-1373; 2012. 2012

Kumar K, Harursampath D. Smart composite and morphing analysis using VAM. In Symposium VI.2 on "Nonlinear Dynamics of Multifunctional Composite Structures" at the 49th Annual Technical Meeting (ATM) of the Society of Engineering Sciences (SES). Atlanta, GA, USA: Paper ID 709; 2012. 2012

Murugan S, Ganguli R, Harursampath D. Stochastic Aeroelastic Analysis of Composite Helicopter Rotor. Journal of the American Helicopter Society. 2011;56(1). 2011

Murugan S, Ganguli R, Harursampath D. Stochastic Aeroelastic Analysis of Composite Helicopter Rotor. Journal of the American Helicopter Society. 2011;56(1). 2011

Pollayi H, Harursampath D. Evaluation of Strength of Component-Laminates in Strip-based Mechanisms. In 8th International Conference on Multi Body Dynamics (ICMBD). KL University, Vijaywada, India; 2011. 2011

Padhee SS, Harursampath D. Reliable Unified Model for Concurrent Multi-Scale Analysis of Fiber Reinforced Composites: A Review. In 6th M.I.T. Conference on Computational Fluid and Solid Mechanics Focus: Advances in Solids and Structures. MIT, Cambridge, MA, USA: Proceedings edited by Prof. KJ Bathe; 2011. 2011

Ponnusami SA, Udaykumar A, Harursampath D. Variational Asymptotic Method based Model for Interface Micro-mechanics in Ceramic Matrix Composites. In The 18th International Conference on Composite Materials. Jeju Island, South Korea: Session: Ceramic Matrix Composite (S.O: Hai-Doo Kim), Paper ID IF1638; 2011. 2011

Harursampath D, Padhee SS. Micromechanical Study of Fiber-Matrix Interfaces to Predict Asymptotically Correct Interfacial Characteristics. In ECCOMAS/IACM International Conference on Computational Modeling of Fracture and Failure of Materials and Structures (CFRAC 2011). Barcelona, Spain: Paper ID 204; 2011. 2011

Ponnusami SA, Harursampath D. Modelling and optimization of dynamic behaviour of Piezoelectric Fiber Reinforced Composites. In The Fraunhofer-Institute for Non-Destructive Testing IZFP and Saarland University's 5th ECCOMAS Thematic Conference on Smart Structures and Materials (SMART'11). Saarbrucken/Germany: Session: Piezo Actuators and Motors; 2011. 2011

Harursampath D, Harish AB. Computationally Efficient yet Accurate Analysis of Composite Plate. In ISAMPE National Conference on Composites (INCCOM 10) – New Horizons in Cost-Effective Composites. Research and Development Establishment (Engineers), Pune, India; 2011. 2011

Harish AB, Harursampath D, Kovvali RK. Load Estimation for Structural Design of Flapping Wing MAV: Pulsatile Flow Perspective. In AIAA/ASME/ASCE/AHS/ASC 52nd Structures, Structural Dynamics and Materials, Session: DSC-04, Dynamics of Micro-Aircraft and Joined-Wing Aircraft. Denver, CO, USA: Paper ID 928711, AIAA-2011-2010; 2011. 2011

Harursampath D, Banker MM, Naik GN.. Co-Cured Composite Stiffened Skin Panel: Asymptotic Analysis. In The Nineteenth Annual International Conference on ?COMPOSITES/NANO ENGINEERING (ICCE – 19). Shanghai, China; 2011. 2011

Harursampath D, Harish AB. A General Framework for Numerical Solutions to Rate-Dependent Plasticity Problems of Piezo-Composites. In ECCOMAS/IACM XI International conference on Computational Plasticity (COMPLAS 2011). Barcelona, Spain: Paper ID 39; 2011. 2011

Harish AB, Harursampath D, Mahapatra DR. Self-actuating and Self-diagnosing Plastically Deforming Piezo-composite Flapping Wing MAV. In Behavior and Mechanics of Multifunctional Materials and Composites V, 18th SPIE International Symposium on Smart Structures and Materials and Nondestructive Evaluation and Health Monitoring. San Diego, CA, USA: SPIE Paper ID 7978-76; 2011. 2011

Harursampath D, Gupta BR. Asymptotic Nonlinear Analysis of Orthotropic Hyperelastic Shells. In Euromech Colloquium 527 Shell-like Structures – Nonclassical Theories and Applications. Lutherstadt Wittenberg, Germany: Invited Paper; 2011. 2011

Harursampath D, Gupta BR. Asymptotic Nonlinear Analysis of Orthotropic Hyperelastic Shells. In EuroMech Colloquium 527: Shell-like Structures – Nonclassical Theories and Applications. Lutherstadt Wittenberg, Germany: Invited Paper; 2011. 2011

Gupta BR, Raghudas RD, Harursampath D. Dielectric Elastomer Based Actuator For Flapping Wing MAV. In Elsevier 2nd International Conference on Multifunctional, Hybrid and Nanomaterials. Strasbourg, France: Paper ID 853; 2011. 2011

Rao MVP, Harursampath D, Renji K. Asymptotically Correct Theory for Thermo-elastic Stress Analysis of Composite Sandwich Panels. In 16th International Conference on Composite Structures (ICCS-16). University of Porto, Porto, Portugal; 2011. 2011

Banker MM, Harursampath D, Naik GN. Through-the-Thickness Behavior of Stiffened Composite Plate. In The 18th International Conference on Composite Materials. Jeju Island, South Korea: Session: Aerospace Applications (S.O.: Jae-Hung Han), Paper ID AF1674; 2011. 2011

Gupta BR, Harursampath D, Mukherjee S. Asymptotically Accurate Non-linear Analysis of Electro-elastomer Membrane Structures. In 17th SPIE International Symposium on Smart Structures and Materials and Nondestructive Evaluation and Health Monitoring. San Diego, CA, USA: SPIE Paper ID 7642-33; 2010. 2010

Pollayi H, Harursampath D. Analytic Sensitivity of Dynamics of Anisotropic Flexible Four-Bar Mechanisms to Stacking Sequences. In ASME/IFToMM/IUTAM/KSME/JSME First Joint International Conference on Multibody System Dynamics (IMSD2010). Lappeenranta, Finland; 2010. 2010

Pollayi H, Harursampath D. 3D Warping in Laminated Four-Bar Linkages. In AIP Proceedings edited by T. E. Simos, G. Psihoyios, and Ch. Tsitouras, 8th International Conference of Numerical Analysis and Applied Mathematics 2010 (ICNAAM 2010), Symposium on Computational Geometric Methods in Multibody System Dynamics. Rodos Palace, Rhodes, Greece: CP1281, American Institute of Physics 978-0- 7354-0831-9; 2010. 2010

Pollayi H, Harursampath D. Analytic Sensitivity of Dynamics of Anisotropic Flexible Four-Bar Mechanisms to Cross-Ply Stacking Sequences. In ECCOMAS/IACM Advanced Numerical Methods in Multibody Systems and Control, IV European Congress on Computational Mechanics 2010 (ECCM2010), Solids, Structures and Coupled Problems in Engineering. Palais des Congrès, Paris, France; 2010. 2010

Padhee SS, Harursampath D. Micro-structure Tailoring for Desired Material Properties. In 2nd International Conference on Engineering Optimization. Instituto Superior Técnico (IST), Lisboa, Portugal: Paper No. 01440; 2010. 2010

Padhee SS, Harursampath D. Micro-Mechanical Tailoring of Composite Structure for Optimum Material Properties. In 51st AIAA Structures, Structural Dynamics and Materials Conference. Orlando, FL, USA: Paper ID AIAA-2010-3056; 2010. 2010

Harursampath D. Reliable Modeling of Three Types of Advanced Materials for Integral Structure-Power- Actuation of MAV. In All India Seminar on Micro and Nano Air Vehicles. NDRF, Bangalore; 2010. 2010

Pollayi H, Harursampath D. Analytic Sensitivity of Dynamics of Anisotropic Flexible Four-Bar Mechanisms to Symmetric Stacking Sequences. In 51st AIAA Structures, Structural Dynamics and Materials Conference. Orlando, FL, USA: Paper ID AIAA-2010-3039; 2010. 2010

Harursampath D. VAM applied to Dimensional Reduction Problems of Nonlinear Materials. In Advances in Continuum Mechanics and Thermodynamics, Ruhr-Universität. Bochum, Germany. invited paper, proceedings being published in special volume of "Continuum Mechanics and Thermodynamics," Springer; 2010. 2010

Murugan S, Ganguli R, Harursampath D. Stochastic Aeroelastic Analysis of Articulated Helicopter Rotor using Response Surface Approximations. In American Helicopter Society 66th Annual Forum and Technology Display. Phoenix, Arizona, USA; 2010. 2010

Padhee SS, Harursampath D, Mukherjee S. Non-linearity in Piezo-fiber Reinforced Composites: An Asymptotic Approach. In 17th SPIE International Symposium on Smart Structures and Materials and Nondestructive Evaluation and Health Monitoring. San Diego, CA, USA: SPIE Paper ID 7644-88; 2010. 2010

Harursampath D. Emerging Techniques for Modeling Composite Structures. In Seminario ha Invitato, Sala Consiglio, Dipartimento di Ingegneria Aerospaziale. Politecnico di Milano , Milan, Italy; 2010. 2010

Harursampath D, Sreedhara H. Composite Patch Repairs. In Modeling and Simulation in Computational Mechanics: Engineering Applications by Sashi Kanta Panigrahi. Germany: LAP Lambert Academic Publishing; 2009. 2009

Pollayi H, Harursampath D. Effect of Asymptotically Correct Nonlinear Cross-sectional Analysis on Dynamics of Anisotropic, Flexible Four-Bar Mechanisms. In 50th AIAA/ASME/ASCE/AHS/ASC Structures, Structural Dynamics and Materials Conference. Palm Springs, CA, USA: Paper # AIAA-2009-2666; 2009. 2009

Gupta BR, Harursampath D. Reliable Nonlinear Dynamics of Orthotropic Hyperelastic Structures. In 11th AIAA Gossamer Spacecraft Forum. Palm Springs, CA, USA: Paper # 159511; 2009. 2009

Pollayi H, Harursampath D. Analytic Sensitivity of Dynamics of Anisotropic Flexible Four-Bar Mechanisms to Antisymmetric Stacking Sequences. In MSNDC-10-3, Implementations and Applications, Differential-Geometric Methods in Multibody Dynamics, Nonlinear Dynamics, and Control, 7th International Conference on Multibody Systems, Nonlinear Dynamics, and Control. San Diego, CA, USA; 2009. 2009

Padhee SS, Harursampath D. Asymptotically Correct Micro-mechanical Model for Non-linear Behavior of Piezo-fiber Reinforced Composites. In 16th SPIE International Symposium on Smart Structures and Materials and Nondestructive Evaluation and Health Monitoring. San Diego, CA, USA: Paper # 7292-85; 2009. 2009

Padhee SS, Harursampath D. Asymptotic Analysis of Composite Cylinder Model. In IISc Centenary International Conference and Exhibition on Aerospace Engineering (ICEAE-09). Bangalore, India: Paper # GN-104; 2009. 2009

Gupta BR, Harursampath D. Asymptotically Accurate Nonlinear Analysis of Electro-Elastomer Membrane Structures. In 16th SPIE International Symposium on Smart Structures and Materials and Nondestructive Evaluation and Health Monitoring. San Diego, CA, USA: SPIE Paper # 7292-128; 2009. 2009

Pollayi H, Harursampath D. Analytic Sensitivity of Dynamics of Anisotropic Flexible Four-Bar Mechanisms to Winckler's Layup Parameter. In IISc Centenary International Conference and Exhibition on Aerospace Engineering (ICEAE-09). Bangalore, India: Paper # GN-124; 2009. 2009

Sreedhara H, Harursampath D. Modeling a Multifunctional Composite Structure in the Framework of the Variational Asymptotic Method. In 16th SPIE International Symposium on Smart Structures and Materials and Nondestructive Evaluation and Health Monitoring. San Diego, CA, USA: SPIE Paper # 7289-79; 2009. 2009

Gupta BR, Harursampath D. Asymptotically Accurate Nonlinear Elastic Constitutive Model with NURBS based Finite Element Analysis of Membrane Structures. In IISc Centenary International Conference and Exhibition on Aerospace Engineering (ICEAE-09). Bangalore, India: Paper #GN-138; 2009. 2009

Pollayi H, Harursampath D. Dynamics of Anisotropic Four-Bar Mechanisms using Asymptotically Correct Nonlinear Cross-sectional Analysis. In 1st African Congress on Computational Mechanics (AfriCOMP'09) – An International Conference. Sun City, South Africa; 2009. 2009

Murugan S, Harursampath D, Ganguli R. Material Uncertainty Propagation in Helicopter Nonlinear Aeroelastic Response and Vibratory Analysis. AIAA Journal. 2008;46(9). 2008

Murugan S, Ganguli R, Harursampath D. Aeroelastic Response of Composite Helicopter Rotor with Random Material Properties. Journal of Aircraft. 2008;45(1). 2008

Murugan S, Harursampath D, Ganguli R. Material Uncertainty Propagation in Nonlinear Aeroelastic Response and Vibratory Analysis. AIAA Journal. 2008;46(9). 2008

Murugan S, Ganguli R, Harursampath D. Aeroelastic Analysis of Composite Helicopter Rotor with Random Material Properties. Journal of Aircraft. 2008;45(1). 2008

Murugan S, Ganguli R, Harursampath D. Robust Optimal Design of Composite Helicopter Rotor Blade Cross Section. In 34th European Rotorcraft Forum. UK; 2008. 2008

Sreedhara H, Harursampath D. Optimal Bonded Composite Patch for an Aircraft Skin Around a Cutout. In EngOpt 2008 – International Conference on Engineering Optimization. Rio de Janeiro, Brazil: Paper # 313; 2008. 2008

Harursampath D, Padhee SS. Failure Sensitivity of Composite Structures Due to Randomness in Material Property. In 3rd International Conference on Engineering Failure Analysis. Sitgers NR Barcelona, Spain: Paper # 0170; 2008. 2008

Pollayi H, Harursampath D. Dynamics of Anisotropic Four-Bar Mechanisms using Asymptotically Correct Analytical Solutions to Nonlinear Cross-sectional Analysis. In ASME 2008 International Mechanical Engineering Congress and Exposition (IMECE08) – "Engineering a Better World,". Boston, Massachusetts: Paper # IMECE2008-68626; 2008. 2008

Harursampath D, Hodges D, Harish AB. Non-Classical Non-Linear Effects in Thin Walled Composite Beams. In 49th AIAA Structures, Structural Dynamics, and Materials Conference. Schaumburg, IL, USA: AIAA Paper # 2008-2306; 2008. 2008

Murugan S, Ganguli R, Harursampath D. Robust Aeroelastic Optimization of Composite Helicopter Rotor. In 1st International Conference on Engineering Optimization. Brazil; 2008. 2008

Gupta BR, Harursampath D. Asymptotically Accurate Nonlinear Analysis of Orthotropic Hyperelastic Inflatable Structures. In 4th European Workshop on Inflatable Space Structures (4EWISS). Noordwijk, The Netherlands: Poster; 2008. 2008

Murugan S, Harursampath D, Ganguli R. New aerospace engineering study findings. In Defense and Aerospace Week. 2008. 2008

Pollayi H, Harursampath D. Geometrically Nonlinear Dynamics of Composite Four-Bar Mechanisms. In 49th AIAA Structures, Structural Dynamics, and Materials Conference. Schaumburg, IL, USA: AIAA Paper # 2008-2079; 2008. 2008

Padhee SS, Harursampath D. Micromechanical Tailoring of Composite Structure for Optimum Material Properties. In EngOpt 2008 – International Conference on Engineering Optimization. Rio de Janeiro, Brazil: Paper # 311; 2008. 2008

Murugan S, Ganguli R, Harursampath D. Robust Optimal Design of Composite Helicopter Rotor Blade Cross-Section. In 34th European Rotorcraft Forum. Liverpool, UK; 2008. 2008

Sharma AK, Harursampath D. Variational Asymptotic Simulation of a Self-healing Shape Memory Alloy Composite. In 49th AIAA Structures, Structural Dynamics, and Materials Conference. Schaumburg, IL, USA: AIAA Paper # 2008-1741; 2008. 2008

Sharma AK, Harursampath D. Variational Asymptotic Analysis of a Self-healing SMA Composite. In EngOpt 2008 – International Conference on Engineering Optimization. Rio de Janeiro, Brazil: Paper # 163; 2008. 2008

Pollayi H, Harursampath D. Geometrically Nonlinear Dynamics of Composite Four-Bar Mechanisms. In 4th European Conference on Structural Control. St. Petersburg, Russia: Paper #ECSC2008: ID226; 2008. 2008

Sharma AK, Harursampath D. Self-healing SMA Composite Simulation using Variational Asymptotic Method. In Symposium on "Advanced Materials, Structures and Mechanics" – New Advances in the 21st Century – at the Earth and Space 2008 Conference on "Science, Engineering, Construction and Operations in Challenging Environments. Renaissance Long Beach Hotel, Long Beach, California, USA: Computational Mechanics Session organized by Washington State University and University of California – San Diego; 2008. 2008

Murugan S, Ganguli R, Harursampath D. Latin Hypercube Sampling for Stochastic Aeroelastic Analysis of Rotorcraft. In 10th AIAA Non-deterministic Approaches Conference. Schaumburg, IL, USA; 2008. 2008

Murugan S, Ganguli R, Harursampath D. Robust Aeroelastic Optimization Of Composite Helicopter Rotor. In EngOpt 2008 – International Conference on Engineering Optimization. Rio de Janeiro, Brazil: Paper # 114; 2008. 2008

Harursampath D, S. PP. Non-Linear Analysis of Pretwisted Anisotropic Beam with Delaminations. In 3rd International Conference on Engineering Failure Analysis. Sitgers NR Barcelona, Spain: Paper # 0119; 2008. 2008

Sharma AK, Harursampath D. Self-healing Simulation of a Shape-Memory Alloy Composite. In 15th SPIE International Symposium on Smart Structures and Materials and Nondestructive Evaluation and Health Monitoring. San Diego, CA, USA: SPIE Paper # 6929-50; 2008. 2008

Harursampath D, Harish AB, Kiran S. Online Structural Health Monitoring of Pretwisted Anisotropic Beams. In the section Integrated SHM Design in the book Structural Health Monitoring: Quantification, Validation & Implementation by Fu- Kuo Chang. USA: DEStech Publications, Inc.; 2007. 2007

Pollayi H, Harursampath D. Comprehensive Non-Linear Analysis of Dynamics of Multi-body Systems involving Anisotropic Elastic Members: Validation and Sample Results. In ECCOMAS Thematic Conference – Multibody Dynamics 2007. Politecnico di Milano, Milan, Italy; 2007. 2007

Padhee SS, Harursampath D. Effect of Randomness in Representative Volume Element for Fiber Reinforced Composites: A Numerical Study. In ISAMPE International and INCCOM-6 Conference on Future Trends in Composite Materials and Processing. IIT Kanpur, India; 2007. 2007

Murugan S, Ganguli R, Harursampath D. Effects of Structural Uncertainty on Aeroelastic Response of Composite Helicopter Rotor. In 48th AIAA Structures, Structural Dynamics and Materials Conference. Honolulu, Hawaii: AIAA Paper # 2007-2298; 2007. 2007

Harursampath D. Multifunctional Composites – A New Paradigm. In ISAMPE International and INCCOM-6 Conference on Future Trends in Composite Materials and Processing. IIT Kanpur, India: Invited Paper; 2007. 2007

Murugan S, Ganguli R, Harursampath D. Effects of Structural Uncertainty on Aeroelastic Response of Composite Helicopter Rotor. In 48th AIAA/ASME/ASCE/AHS/ASC Structures, Structural Dynamics and Materials Conference. Hawaii, USA; 2007. 2007

Gupta BR, Harursampath D. Asymptotically Accurate Non-linear Analysis of Inflatable Structures. In 9th AIAA Gossamer Spacecraft Forum. Honolulu, Hawaii: AIAA Paper #2007 -1823; 2007. 2007

Murugan S, Harursampath D, Ganguli R. Stochastic Aeroelastic Analysis of Composite Helicopter Rotor. In 33rd European Rotorcraft Forum. Kazan, Russia; 2007. 2007

Murugan S, Ganguli R, Harursampath D. Stochastic Aeroelastic Analysis of Composite Helicopter Rotor. In 33rd European Rotorcraft Forum. Kazan, Russia; 2007. 2007

Padhee SS, Harursampath D. Multiscale Analysis of Active Fiber Reinforced Composites with Random Material Properties. In 14th SPIE International Symposium on Smart Structures and Materials and Nondestructive Evaluation and Health Monitoring. San Diego, CA, USA. Poster: SPIE Paper # 6526-106; 2007. 2007

Harursampath D, Harish AB, Suryakiran CH. Online Structural Health Monitoring of Pretwisted Anisotropic Beams. In 6th International Workshop on Structural Health Monitoring. Stanford University. Palo Alto, CA, USA; 2007. 2007

Pollayi H, Harursampath D. Fully Comprehensive Geometrically Non-Linear Analysis of Anisotropic Composite Beam Systems. In 6th International Conference on Multibody Systems, Nonlinear Dynamics, and Control. Las Vegas, Nevada, USA. IDETC/CIE# DETC2007-3535; 2007. 2007

Harursampath D, Volovoi V. Thin-Walled Beams. In Nonlinear Composite Beam Theory by Dewey H. Hodges. USA: Progress in Astronautics and Aeronautics, Vol. 213, AIAA; 2006. 2006

Guruprasad PJ, Tamrakar AK, Harursampath D. Modeling of Active Fiber Composite for Delamination Sensing. In SPIE's Smart Materials, Nano- and Micro-Smart Systems 2006. Adelaide, Australia. AU06-AU101-4. Paper 641305; 2006. 2006

Harursampath D, Tamrakar AK. Optimal Configurations of Active Fiber Composites based on VAM. In SPIE's Smart Materials, Nano- and Micro-Smart Systems 2006. Adelaide, Australia. AU06-AU102-3, Paper 641413; 2006. 2006

Gupta BR, Harursampath D. Asymptotically Accurate Nonlinear Analysis of Inflatable Structures. In IndACM's 2nd International Congress on Computational Mechanics and Simulation (ICCMS-06). IIT Guwahati, India; 2006. 2006

Pollayi H, Harursampath D. Comprehensive Nonlinear Analysis of Dynamics of Multi-body Systems involving Anisotropic Elastic Members: Validations. In IndACM's 2nd International Congress on Computational Mechanics and Simulation (ICCMS-06). IIT Guwahati, India; 2006. 2006

Pollayi H, Harursampath D. Comprehensive Nonlinear Analysis of Dynamics of Multi-body Systems involving Anisotropic Elastic Members. In IACM's 7th World Congress on Computational Mechanics. Los Angeles, USA; 2006. 2006

Harikrishna S, Harursampath D. MFC as a Delamination Sensor in Antisymmetric Laminates. In SPIE's Smart Materials, Nano- and Micro-Smart Systems 2006. Adelaide, Australia: Paper 641414; 2006. 2006

Harursampath D, Kumar P, Guruprasad PJ, Harikrishna S. Towards the Correct Modeling of Composite Beams for Online Health Monitoring. In 4th International Conference on Fracture of Polymers, Composites and Adhesives. les Diablerets, Switzerland; 2005. 2005

Tamrakar AK, Harursampath D. Active Fiber Composites: General Theory and Applications. In II ECCOMAS Thematic Conference on smart structures and materials. Lisbon, Portugal; 2005. 2005

Murugan S, Harursampath D, Ganguli R. Aeroelastic Analysis of Composite Helicopter Rotor using Variational Asymptotic Cross-Sectional Analysis. In 53rd American Helicopter Society (AHS) Forum. TX, USA; 2005. 2005

Tamrakar AK, Guruprasad PJ, Harursampath D. Modeling of Active Fiber Composite for Delamination Sensing. In 12th SPIE Annual International Symposium Smart Structures and Materials. San Diego, California, USA: SPIE paper # 5767-29; 2005. 2005

Guruprasad PJ, Harursampath D. Cross-sectional Stiffness Degradation due to Symmetric Free-Edge Delamination in an Anisotropic Strip. In International Conference on Computational and Experimental Engineering and Sciences. Chennai, India: ICCES0520050714270; 2005. 2005

Tamrakar AK, Kumar P, Harursampath D. Asymptotic analysis of active drive shafts. In IACM's 6th World Congress on Computational Mechanics. Beijing, China; 2004. 2004

Tamrakar AK, Kumar P, Harursampath D. Failure Analysis of Active Drive Shafts. In IndACM's International Congress on Computational Mechanics and Simulation (ICCMS-04). IIT Kanpur, India; 2004. 2004

Harursampath D, Tamrakar AK. General Constitutive Relations for Active Fiber Composites. In 3rd International Conference on Advances in Structural Engineering and Mechanics (ASEM'04). Seoul, South Korea; 2004. 2004

Roy S, Harursampath D. Analytical Modeling of Twist Actuators for Pretwisted Anisotropic Strips. In 45th AIAA Structures, Structural Dynamics, and Materials Conference. Palm Springs, CA, USA: AIAA Paper # 2004-1523; 2004. 2004

Kumar P, Harursampath D. Critical Speeds of Composite Drive Shafts under Non-Linear Bending. In Australian Cooperative Research Center on Integrated Engineering Asset Management (CIEAM)'s Asia-Pacific Conference on System Integrity and Maintenance (ACSIM) and Vibration Engineering and Technology of Machinery (VETOMAC) . New Delhi; 2004. 2004

Guruprasad PJ, Harursampath D. Non-Linear Sectional Analysis of Pretwisted Anisotropic Strip in the Presence of Delamination. In 1st International Conference on Engineering Failure Analysis. Lisbon, Portugal; 2004. 2004

Harursampath D, Mitra K. Modeling of Static Indentation on Laminated Composite Shells. In 30th AAAF's European Rotorcraft Forum (ERF). Marseilles, France; 2004. 2004

Guruprasad PJ, Harursampath D. Closed-Form Non-Linear Sectional Analysis in the Presence of Delamination. n 45th AIAA Structures, Structural Dynamics, and Materials Conference. Palm Springs. CA, USA: AIAA Paper # 2004-1838; 2004. 2004

Harursampath D, Tamrakar AK. Non-Linear Analysis of Active Pretwisted Anisotropic Strips. In 30th AAAF's European Rotorcraft Forum (ERF). Marseilles, France; 2004. 2004

Mitra K, Harursampath D. Asymptotic Construction of Reissner-like Composite Plate Theory with Delamination Effects. In 45th AIAA Structures, Structural Dynamics, and Materials Conference. Palm Springs, CA, USA; 2004. 2004

Harursampath D, Kumar P. Brazier Effect in Spinning Hollow Composite Drive Shaft using Mixed Finite Element Method. In 30th AAAF's European Rotorcraft Forum (ERF). Marseilles, France; 2004. 2004

Guruprasad PJ, Ravikumar NL, Paulson PP, Harursampath D. Need for Large Deformation Non- Classical Non-Linear Theory for Damage Diagnostics. In 8th International Symposium on IMPLAST 2003, Plasticity and Impact Mechanics. New Delhi, India; 2003. 2003

Harursampath D, Hodges DH. Inplane Buckling of Anisotropic Rings. In 15th ASCE Engineering Mechanics Conference. Columbia University, New York: EM2002; 2002. 2002

Hodges DH, Harursampath D, Volovoi VV, Cesnik CES. Non-Classical Effects in Non-Linear Analysis of Pretwisted Anisotropic Strips. International Journal of Non-Linear Mechanics. 1999;34(2). 1999

Harursampath D, Hodges DH. Asymptotic Analysis of the Non-Linear Behavior of Long Anisotropic Tubes. International Journal of Non-Linear Mechanics. 1999;34(6). 1999

Guruprasad PJ, Thejasvi M, Harursampath D. Nonlinear analysis of a thin pre-twisted and delaminated anisotropic strip. Acta Mechanica. 1999

Harursampath D, Hodges DH. Non-Linear Analysis of Long, Anisotropic Tubes in Bending, Extension and Torsion. In 40th AIAA Structures, Structural Dynamics and Materials Conference. St. Louis, Missouri: AIAA Paper # 1999-1343; 1999. 1999

Harursampath D, Hodges DH. Nonlinear Bending of Anisotropic Tubes – Analytical Solution Using the Variational Asymptotic Approach. In 7th International Workshop on Dynamics and Aeroelastic Stability Modeling of Rotorcraft Systems. St. Louis, Missouri; 1997. 1997

Harursampath D, Hodges DH, Cesnik CES. Nonlinear Strain Field Effects in Anisotropic Strips. In Recent Developments in Solid Mechanics. Rio de Janeiro, Brazil; 1996. 1996

Harursampath D, Hodges DH, Cesnik CES, Popescu B. Composite Beam Cross-Sectional Modeling Including Obliqueness and Trapeze Effects. In 37th AIAA Structures, Structural Dynamics and Materials Conference. Salt Lake City, Utah: AIAA; 1996. 1996

Harursampath D, Hodges DH, Cesnik CES, Popescu B. Composite Rotor Blade Cross-Sectional Modeling: Capturing Non-Obliqueness and Trapeze Effects. In 6th International Workshop on Dynamics and Aeroelastic Stability Modeling of Rotorcraft Systems. Los Angeles, California; 1995. 1995
Dileep Kumar [M.Tech], 'Strength Estimation of Metal Matrix Composites by homogenization', Expected: June, 2018.
Shraddha C [M.Tech], 'Woven Composite Shells-Concurrent Multi-scale Analysis', Expected: June, 2018.Dr. Keshava Kumar Subhakar Rao, PhD, Wave-based SHM of Composite and Sandwich Structures, May 2014 (Co-advised by Prof. Ranjan Ganguli), Post-Doctoral Fellow, Politecnico di Torino, Italy.
Dr. Burela Ramesh Gupta, PhD, Asymptotically-correct Dimensional Reduction of Non-linear Material Models, Oct 2011. Exchange student, ENS de Cachan, France; Currently Faculty Member, SNU, India.
Dr. Srikant Sekhar Padhee, PhD, A Synergetic Micromechanics Model for Fiber Reinforced Composites, Jun 2011. Exchange student, Politecnico di Milano; Currently Faculty Member, IIT Ropar, India.
Dr. Pollayi Hemaraju, PhD, Effects of Cross-sectional Nonlinearities on Anisotropic Strip-Based Mechanisms, Sep 2010. Currently Head, Civil Engineering and Founder-Director, Advanced Composite Structures Laboratory (ACSL), GITAM University, Hyderabad
Dr. Senthil Murugan, PhD, Aeroelastic Analysis and Optimization of Composite Helicopter Rotor with Uncertain Material Properties, Oct 2009. (Co-advised by Prof. Ranjan Ganguli). Currently Faculty Member, IIT Madras, India
Ramkumar Kaushik, [PhD], Design to Delay/Prevent Debonding of Conventional and Advanced Composite Materials in Multifunctional Applications through Theoretical and Experimental Studies, Expected: Dec 2020
Kamal Narayan Sahu, [PhD], Progressive Damage Analysis of Composite Structures, Expected: Dec 2020
M. V. Peereswara Rao, [PhD], Micro- and Macro-Level Formulation of Multi-Layered and Multi- Functional Composite Structure for High Altitude Airship, Expected: Dec 2020
Sai Sidhardh, [PhD], Aeroelastic Analysis of Sustainable Multifunctional High Altitude Long Endurance (HALE) Aircraft, Expected: Dec 2018
Shaikbepari Mohammed Khajamoinuddin, [PhD], Stratospheric Airship: Warping Instabilities in Multifunctional Structural Design, Expected: Dec 2018 (Co-advised by Dr. M. R. Bhat).
Ajith Moses, [PhD], Design of Battery-Fiber MAV Wings, Expected: Dec 2018 (Co-advised by Dr. K. R. Jayaprakash).
Kandula Venkata Rama Sateesh, [PhD], Modeling 3-D Woven Composite Sandwich Shells under Impact Loading, Design of Mini-Helicopter, Expected: Dec 2018. Honeywell
Abhiram D. R., [PhD], Design of Mini-Helicopter, Expected: Feb 2017 (Co-advised by Prof. Ranjan Ganguli).
H. Sreedhara, [PhD], Multifunctional Composite Battery Analysis, Expected: June 2017. Currently Scientist, NAL, India.
Prasad P. S., [PhD], Concurrent Multiscale Modeling of Damage in Composites, Expected: June 2017. Currently Manager (Aircraft Programs), GippsAero, Mahindra Aerospace, Australia.
Jai Kiran E., [MSc (Engg.)], Modeling of Contact in Orthotropic Materials using Variational Asymptotic Method
Maqsood Mohammed Ameen, [MSc (Engg.)], Analysis of Thick Laminated Composite Beams using Variational Asymptotic Method, Submitted: Jun 2016, Currently PhD Student (TU, Eindhoven, Netherlands).
Megha T. V., [MSc (Engg.)], Asymptotically-correct Computational Models for Tapered Composite Structures with Matrix-rich Regions, Dec 2015, Currently Engineer, Rolls-Royce.
M. V. Peereswara Rao, MSc (Engg.), Inter-laminar Stresses in Composite Sandwich Panels using Variational Asymptotic Method (VAM), Jan 2011. Scientist, ISAC, ISRO, India.
P. J. Guruprasad, MSc (Engg.), Delamination Detection Theory for Generally Anisotropic Beams, Aug 2005. PhD, Texas A&M University; Post-Doctoral Fellow, Ecole de Mines Paris, France; Currently Faculty Member, IIT Bombay, India.
Pramod Kumar, MSc (Engg.), Critical Speeds and Smart Applications of Composite Shafts under Non-linear Bending, Aug 2004. Currently Senior Engineer, Altair, India.
Sitikantha Roy, MSc (Engg.) , Modeling of Twist Actuator using Variational Asymptotic Method, Aug 2003. PhD, Penn State and Utah State University, USA; Currently Faculty Member, IIT Delhi,India.
it Saha, [MSc (Engg.)], Optimal Morphing of Fixed Wings for Dominant MAV Flight Phases, Expected: Jun 2017.
ha Gagan, [MSc (Engg.)], Parametric Resonance in Helicopter Rotors, Expected: Aug 2017 (Co-advised by Dr. K. R. Jayaprakash).
ay Gupta, ME, Optimal Bling Design, expected: Jun 2017.
Sasidharan Sandeep, ME, Bullet-Proof Battery Composite Combat Vest Design, expected: Jun 2017.
Mohamed Neyaz, ME, Hybrid Metal-Composite Containment Design, expected: Jun 2017.
Kondamadugula Lakshmi Bharath Reddy, ME, Computational Study of the Impact Mechanics of Dry Aramid Fabrics and their Composite Shells, expected: Jun 2017.
Sachin Chandra Shrivastava, ME, A Computational Study of the Micro-Mechanics of and Radial Matrix Cracks in Metal Matrix Composite RVE based on an Asymptotically-correct Analysis, Jun 2016. Currently Engineer, Rolls-Royce, India
Midhun A. J., ME, Micro-Mechanical Modelling of Woven Fabric Composite using Variational Asymptotic Method (VAM), Jun 2016. Currently Scientist, ISRO
Ganesh S., ME, Micro-Electro-Mechanics of Piezo-Ceramic Fiber Composites, Jun 2015. Currently Scientist, Centre for Airborne Systems (CABS), Defence Research and Development Organisation (DRDO), India
Jobin Kolliyil Joy, ME, Computational Modeling of Resin Flow during Composite Manufacturing Process using VAM, Jun 2015. Currently PhD student, Texas A&M University (TAMU), USA
Shiv Harsh Pothula, ME, Asymptotic Modeling of Delamination Initiation in Arbitrarily-Oriented Composite Laminate, Jun 2015. Currently Engineer, GE India
Late Prabhakaran J. K., ME, Envelope Modeling for HAA, expired: Apr 2014
Arun Jose, ME, Ballonet Modeling for HAA, Jun 2014. Currently Senior Scientist, Indian Space Research Organisation (ISRO), India
Arun Krishnan, ME, Flex-seal Modeling, Jun 2014. Currently Senior Scientist, Indian Space Research Organisation (ISRO), India
Archana Shukla, ME, Analysis of Composite Sandwich Plate with Angle Brackets, Jun 2013. Currently Senior Scientist, Indian Space Research Organisation (ISRO), India
Valliappan V., ME, Variational asymptotic modeling of an initially curved and pre-twisted smart beam, Jun 2013. Currently PhD student, TU Eindhoven, The Netherlands
Atul Kumar, ME, 3-D FEA and Analytical Timoshenko-like yet Asymptotic Modeling of Tapered Composite Beams, Jun 2012.
Gottimukkula Venkatesh, ME, Delamination Sensitivity of Composite Beam Dynamics, Jun 2012.
Krishan Kumar, ME, Modeling Camber Morphing Fixed Wing for MAVs using PFRC, Jun 2012.
Satish G. Kumar, ME, Particle Swarm Optimization of Composite I-Beam Sections, Jun 2011 (coadvisor: Dr. S N Omkar). Engineer, GE India; Project Associate, NMCAD Lab; Rolls-Royce
Sathiskumar Anusuya Ponusami, ME, Modeling of Piezo-composite Actuators with Application to Self-Actuating Flapping Wing MAV, Jun 2011. PhD (TU Delft), The Netherlands
Banker Manisha Mayankbhai, ME, Stiffened Composite Plate Analysis using Variational Asymptotic Method, Jun 2011 (co-advisor: Dr. Narayan Naik). Currently Senior Scientist, National Aerospace Laboratories (NAL), India
Pramod B. Balareddy, ME, Energy Harvesting Performances of Unimorph Piezoelectric and MFC Composite Beams, Jun 2010. Currently Senior Scientist, Indian Space Research Organisation (ISRO), India
R.V. Ravikumar, ME, "Specialized vs Multi-Role Fighter Aircraft" Performance and Functional Agility Metric Comparison in the Conceptual Design Phase, Jun 2007. Currently Senior Scientist, Defence Research and Development Organisation (DRDO), India
A.K. Sharma, MTech, Variational Asymptotic Simulation of a Self-healing SMA Composite, Jun 2007. Currently Senior Scientist, Indian Space Research Organisation (ISRO), India
Jagadeesh Gowda, MTech, An Asymptotic Approach for Thermoelastic Analysis of Laminated Composite Shells with Uncertain Material Parameters, Jul 2006.
Shivaprasad, ME, Effect of Internal Pressure on Non-linear Bending and Local Buckling of Long Anisotropic Tubes, Jul 2006. Senior Engineer, Airbus India
Suryakiran, ME, Probabilistic Modeling of Delamination, Jun 2006. Currently Senior Scientist, Defence Research and Development Organisation (DRDO), India
Biijudas C.R., ME, Compressive Stiffness of Composite Circular Springs with Extended Flat Contact Surfaces, Jul 2006. PhD, IIT Bombay; Currently Faculty Member, Indian Institute of Space Technology (IIST), India
Amit Kaushal, MTech, Generalized Deflection Control of Flexible Beam using SMA Wires, Jul 2005.
B. Srinivasulu, ME, Hygrothermal Analysis of Laminated Composite Shell using VAM, Jul 2005.
V. Viswanath, ME, Matrix Cracking in Brittle Matrix Composites, Jul 2005. Currently Senior Scientist, Indian Space Research Organisation (ISRO), India
S. Hari Krishna, ME, Studies on MFC as Delamination Sensor and Snap-through Actuator, Jul 2005. Currently Senior Scientist, Indian Space Research Organisation (ISRO), India
H. Sreedhara, ME, Modeling of External Composite Patch Repairs of Laminates using VAM, Jul 2005. Currently Senior Scientist, National Aerospace Laboratories (NAL), India
Ajay Kumar Tamrakar, MTech, Asymptotic Analyses of Smart Anisotropic Strips and Drive Shafts, Jun 2004. Currently Senior Divisional Manager, Indian Railways
Kaustav Mitra, MTech, Modeling of Static Indentation on Laminated Composite Shells, Jun 2004. Airbus Hamburg Germany; MBA, London School of Economics; Currently at Goldman Sachs
J. Siri Kiran, MTech, Vibration Characteristics of SMA Composite with Different BCs using FEM, Jun 2004.
Vasudev Kumar Atukuri, ME, Analysis of Filament-Wound Composite Helical Springs, Jan 2001.

Name: Dr. Rammohan. B

Completion of PhD: May-2018

Topic: Design and Analysis of Multifunctional composites for Unmanned Aerial Vehicles.

Current Designation : Professor, Mechanical Engineering Department at Dayananda Sagar University, Bengaluru
Dr. Umesh K, PhD (IISc) , Post Doctoral Research Fellow, Study of Suitability of Composite Layers for Fan Blade Containment in a Gas Turbine System through Numerical Modeling and Experimental Validation
Sumit Khatri, BTech+MTech (IIT Khargpur), Project Associate, Study of Suitability of Composite Layers for Fan Blade Containment in a Gas Turbine System through Numerical Modeling and Experimental Validation
Deepesh Raj, MTech (IIT Bombay), Project Associate, Computational Study of the Micro-mechanics and Damage Mechanics in Metal Matrix Composite Bling based on VAM
Karthik Dayanand, BE (SIT, Tumkur), Project Assistant, Computational Study of the Micro-mechanics and Damage Mechanics in Metal Matrix Composite Bling
Jebin Thomas, MTech (NIT, Trichy), Project Associate, Computational Study of the Micro-mechanics and Damage Mechanics in Metal Matrix Composite Bling based on VAM